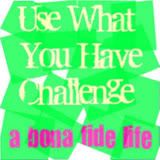 I'd love to see what you are planning to toss, recycle, or donate if you don't use it within the next four months. Here's how to play...
Make a post like this one with a list of the items that are just sitting there... doing nothing... collecting space.
As you use them, mark them out somehow.
Link up to this post.
(Feel free to gradually add to your lists. I'm sure I'll be doing this regularly.)
Here's my list, broken down by rooms/spaces.
Kitchen
baby onesies
Living room
Hallway
Closet
tissue paper
construction paper
stencils
do a dot markers
hole punches
pipe cleaners
Bathroom (hall)
My bedroom
Laundry room
Bathroom (mine)