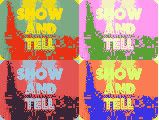 I have lots of new followers and readers it seems so I wanted to take a moment to make sure that everyone knows about the Monthly Show and Tell Link up. Our link up takes place on the 11th of each month. You can read the rules and guidelines
here
.
I wanted to add and emphasize that...
Moms can show and tell as well. If your kids don't want to participate, you are welcome to do it instead :). I think that I am going to give it a shot this month myself.
Also, you don't have to have a blog in order to participate. You can upload your video to youtube and then share the link just like anyone with a blog would. Participants could even comment on the video.
I have also decided to add an optional theme. Again, the theme is
optional
. The only purpose that the theme will serve is to give inspiration to folks who would like to participate but who are struggling to decide what to share.
In observation of Mother's day, our
optional theme
is:
Something your mom gave you
PLEASE spread the word about show and tell! Hunter, Ronin, and I would love to have lots of new participants this month!