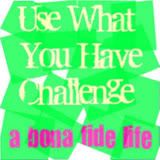 It's not been super easy to keep up with all of the ways that I've been meeting this self-imposed challenge. For one thing, my meal plan got off track when the boys went out of town. I did manage to finally make it to Whole Foods this week for my grocery LIST shopping. I purchased many items that will allow me to use up other items that I have in my pantry and freezer. Pretty soon, that old random pack of chili seasoning and my millet will be gone. I also remembered to buy a large tub of salad greens so that we can start using up the ten dressings I purchased on special recently. We used up some ingredients by making
these spelt crackers
. I did add the rosemary. I took part of them to a friend's play reading party that we attended and kept the rest in my refrigerator to use when I make some chili (see above). The crackers are really good. I didn't do a very good job of making them even in thinness. Some of the thicker ones remind me more of a thin biscuit than a cracker, but they are tasty nonetheless. I'd love to hear about your cracker making experiences!
While Ronin and I were having our
coffee date
, we used two board games and a beading kit that had never been opened. I think I will save the kit to use again when we host an all girls tea party this spring/summer. We have also been playing Go Fish with some rarely used cards a lot this week.
Ronin and I took the girl bike and the boy bike to a special event being held here in our community called ReCycle. It was hosted by
Greenhouse Ministries
. We were able to have volunteers take a look at the bikes and make small repairs to them. Both bikes ride much more smoothly now.
And here is the beginning of our play garden (inspired by the ideas in
this post
). Not counting the soil, I've spent about 7 dollars on the whole thing. Otherwise, I am gathering items from our yard and our house. I will post more as soon as it's "finished". :)
I've cleaned out my pantry and gotten out some items for Goodwill. I also moved some crafty things into the craft closet, including a giant roll of drawing paper that I'd forgotten we had. I have also found some crafty ideas on a few blogs I've been checking out...
one will help use up my tissue paper
and
one will help use up those little pom pom balls
I bought for no good reason a few years ago (and will nicely lead into and serve as a reminder to finally using that giant bag of sugar in my pantry-bought solely for the purpose of feeding hummingbirds- to make nectar for our feeder).
And finally, we have decided that, at least for now, we aren't going to order the next "Explode the Code" workbook for Hunter. He doesn't mind doing them but I have noticed they stress him out which means he probably doesn't truly want to be doing it. Instead, we are going to focus on completing Math U See Primer and a few other activity books we already have lying around the house (that he actually enjoys doing).
How is your challenge going? What have you used or used up recently? What are some of the items in your house that you need to use? Perhaps we can start sharing ideas of how to use specific items.