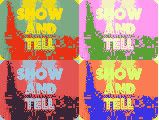 Welcome to our April 2011 edition of "Show and Tell"!
Learn more about how to play
here
.
Please share this link as much as possible! We'd love to have a few new participants this month. Remember that it's very important to drop by the blogs of the participants and ask questions and leave comments in order to make the experience as enriching for every child who is participating. If you are participating, grab a button (in my sidebar) and stick it on your blog!