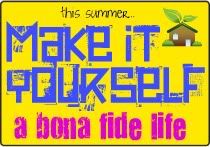 For years I've been mentally making this list of things that I am going to make or do.
Maybe you have the same problem... things you want to learn to make or things you want to finally start doing and you just need the motivation to get going.
I am here to motivate you!
What is "Make It Yourself"?
This summer I will host a link-up on Mondays called "Make it Yourself". You are invited to post about the things that you learn to make at home, the tasks you finally decide to tackle, and those items on your to d0 list that just keep being pushed forward (you know what I'm talking about). The summer of 2011 is about getting it done!
When is "Make It Yourself" going to happen?
For ten weeks, from May 30-August 1, I will host a link-up on every Monday. Any post about getting stuff done is welcome!
What if I don't have a blog but I'd like to participate?
Oh, no problem. Participate by commenting on our
facebook page
, make a video about your accomplishments and upload them to youtube and then post a link in the comments, or just simply write about your accomplishments in our comments section on the posts.
Are there any rules?
Just two... stay on topic and have fun. I'd also appreciate it if you grabbed the code for the "Make it Yourself" button and put it on your sidebar or in your blog posts. But I don't make any requirements :)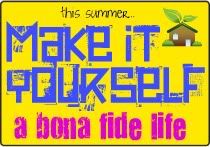 Here is my list of stuff that I hope to post about on Mondays this summer.
(Feel free to comment on this post with your goals and
also feel free to borrow my ideas and goals.)
use my sewing machine
make homemade: laundry detergent, dishwasher detergent, tick repellent spray,
mosquito repellent spray, thieves oil, and toothpaste
use my clothes line
use cloth diapers
start sprouting again with my sprouter
make something with my sewing machine
make nectar for the hummingbird feeder