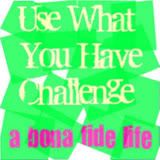 I am so sick of all of the things in the house that don't get used. I'm pretty good about clearing out spaces so we probably have fewer of these unused items than a lot of people (okay, I'm a neurotic freak... like the opposite of a hoarder). Waste really bothers me... from food that might go uneaten to books not being read, I think that all things must have a purpose and it bothers me deep down inside when I think that someone else out there might be able to enjoy or benefit from something sitting in my home.
So I've devised a plan. A challenge if you will. My intention is to make a master list of games (board, card, etc) and craft supplies that we own. Next I will schedule times to play games (I already do this) and then during each game time, we will at the very least attempt to play a new game. If the game is awful and we hate it, we'll get rid of it. If it's great, we'll keep it (duh). If I cannot convince the kids to even try it, it's out the door too. I will also seek out craft project ideas that would help us to use up our craft supplies and attempt to do a new craft session/art time weekly (again, we already do this). If by the end of the summer we've not been able to bring ourselves to use the craft supply, it goes to a new home as well.
Would anyone else like to join me starting... now? :)
Edit: my friend Tamara says that she wants to be more intentional about using up food she has in her home before she buys more food. Great idea! We are doing some of that too!