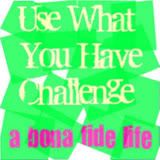 So here is what I've accomplished thus far in the
"Use What You Have" challenge
:
Ronin used some fingerpaints and special finger paint paper that Hunter received as a birthday gift... three years ago. We were able to throw out some of the paint that had dried.
Hunter helped me and Ronin finish her set of unicorn sticker mosaics.
We played Hunter's Simpsons Scene It Game with Mr. Roy and Ms. Patti.
How is it going for you? :)