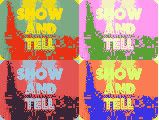 Hunter used to host a homeschool show and tell at the local library. Before Leukemia. He asks me all of the time when we can start hosting it again. The truth is that I don't know. So in the meantime, I figure we can host one here!
On the 11th of each month, everyone will be invited to join us in a Show and Tell Blog Hop. I'll collect
a list of links
here on my blog and all participants will be invited to visit the other entries.
Some months I may suggest a theme (but no one will be obligated to share something related to the theme).
All of your children can easily participate.
There will be two ways to create a show and tell post.
1. Video. You can record your child telling his or her audience about their chosen item. Then simply embed the video into your blog entry.
2. Photos and dictation. You can take a picture of your child with his or her item. Type up what he or she has to say about the item and then post that with the photo. Older children might be able to type it up themselves.
Edit: I've found that it'
s necessary to do a combination of both video and photos/dictation.
Adults can participate too!
We should all feel encouraged to ask questions in the comment section of each entry just like in a real life show and tell.
Parents and children should plan to enjoy the blog hop together... this is a great opportunity to include your kids in your "blogging time". The children might even make a few friends in the mean time :).
So remember that on
March 11th
, we'll host our first
Show and Tell Blog Hop
!
I hope to see you all there... or... errr, here.