Most people who know me... or know me well... know that I have had a 16 year long love affair with Jon
Lovitz
. Yes, that is right. Jon
Lovitz
.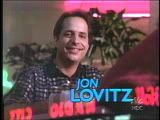 He is my longest lasting boyfriend. Whenever I needed a laugh or a hug (okay, maybe just the laugh) Jon Jon was there, by my side. Never to fail. I fell madly in love with him with I was 14 years old after watching repeats of (back then) several seasons old
SNL
episodes on Comedy Central.

Master Thespian, Annoying Man,
Mephistopheles
, Harvey
Fierstein
, Tommy
Flannigan
,
Hannauka
Harry, The Loser on the Street.... sigh. So sexy. So funny. So wonderful. I heart him.

I saw MOM AND DAD SAVE THE WORLD in the theater with my mom. There was one other person in the audience. I squealed when he farted.
His
"The

Please

Watch the Jon

Lovitz

Special"
aired one time. In May of 1992?? I have it on tape. Still. It's in my garage.
And I had my first sex dream about him. Seriously. I won't go into the details but it was pretty hot. Um I swear.
This love affair has waxed and waned throughout the years. But I've mostly remained madly in love with the
Lovitz
.
And then I noticed today that he was the "
Secrect
Stand up
" guest for some special
Myspace
show? I dunno. I watched some of his
stand up
on
this
link. It was not funny. Balls aren't funny. Gratuitous use of the F word is not funny. And I'm sad. Someone comfort me.