... Will find it hard to sleep tonight. My kids aren't told that Santa is on the way and has loaded lots of toys and goodies on his sleigh. However, the female Jones child is unable to sleep nonetheless. Perhaps it's the insane coughing that she is doing. I don't know if her immune system was still low from being sick a couple of weeks ago or if she's ill from the cheese she was handfed during a gathering, but she's not able to sleep and she just keeps putting her feet in every direction. Maybe I should have continued my nap on the sofa. Her brother is out, however, from the Benedryl. He's been sick ever since the "cheese incident". I HATE DAIRY and I HATE THAT WE LIVE IN A WORLD WHERE EVERYONE EATS DAIRY. Pure evil. Simply put.
When you don't "do Santa" then you have a lot of freedom about when you can open gifts during the holiday season. So, we decided to go ahead and open gifts on Christmas Eve morning. Why not right? M has to return to work tonight so we figured this way we'd have extra time to play with new toys and new games in order to really enjoy the cool new things that the kids received. Plus we might want to bake something or make some waffles... both of which will be much easier thanks to some new things that were under the tree.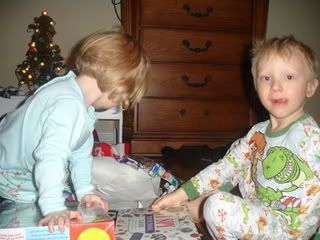 This year was a lot easier than last. For this I am thankful. On the way home this evening, I teared up a little but mostly I was just appreciative for the way that I kept it together all day long. I made a major point to try and create a lovely holiday for not only my family but for myself too. Mostly I just wanted to keep it together and so far so good. No hives. No emotional breakdowns or threats of suicide.
I cannot believe how many new
THINGS
that the kids received this year. Some of the things include: Melissa and Doug doll house, Sushi set, Birthday Cake set, Clay play set, and Musical instruments set, a Caggage Patch Kid (her name is Clara Harmony), a VTech digital camera, a Furreal Newborn Piglet (her name is Pinky), Lincoln logs, Disney Bingo, Candyland Match Game, Mr. Potato Head Disney World sets, Puzzles, I Spy Preschool game, stickers, all natural candies, Toy Story and Alice and Wonderland shirts, stuffed Dragon and Dragon playset (from Geoff), paint, Easel drawing paper, Cars stuff (journal, new characters, alarm clock, Mac playset, tatoos, metal box, sticker poster set, school set with a pencil sharpener), lap harp, Tinkerbell purse, antenae Mickeys for the van, Clifford wash cloths, Mickey neck tie, books, stove, cookie cutters, coloring books, Color wonder painting set, Robot aprons, ornaments, some clown doodad box thingy, money, umm.... I'm finished listing things. I can't believe how many things they received. Normally I'm not into the whole "stuff" thing but honestly, the kids just didn't have many age appropriate toys. I'm really looking forward to enjoying some of this stuff with them. I think it will be a lot of fun. I'm especially excited about the dollhouse. I always wanted one... It's wooden and all natural. Sigh.
The only reason why we were able to get so many awesome things for these kids for Christmas is because of a random, fluke happening with an Amazon gift certificate. I really liked getting them all natural things... I believe I'll start saving immediately so that we can do it again next year. I'm slowly weeding out the plastic. Although I must admit that I love their Ikea plates and bowls that are plastic. So... I'm a work in progress;).
Saturday a bunch of my friends from high school met up for a little shindig that I organized. We met at our buddy W's Dad's house in Gallatin. Going to Gallatin, particularly this time of year, is very difficult for me. I have a terrible time... the memories, the feelings, the thoughts, the sick feeling in my stomach. But I survived. It was so good to see all of my friends and know that they love me. They are my family. I am so thankful that I have friends who can be a family to me.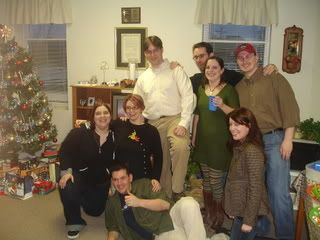 On a light note, I wonder what it means when your husband buys you this for Christmas: