I think it's time to start blogging again... and somewhere other than
myspace
. So, here it is... my new blog. I have left behind my blog on
livejournal
. I cannot be there any longer. I don't even remember how to log into that account. So, after much deliberation, I believe that it's my duty to blog again.
Well... it's the holidays again... fa la la la
ladie
freaking la. I've done rather well with laying aside my scrooge-like attitude in order to make the holidays special for the donuts. Activities have included: making Christmas ornaments at
Artsy Mamas
happenings, shopping with H for Daddy and R, decorating not one but two trees, hanging the stockings by the stereo with care, dressing the kids in holiday attire and photographing them, emailing an electronic holiday greeting card that I created on Publisher (my new favorite addiction), adding holiday themed backgrounds to both of the
myspace
pages (and even a song on my own page), attending the Christmas party at
Unity Church of Life
wrapping all of the gifts ahead of time, making all natural gingerbread houses with A and her kiddos, and planning a huge family event for Artsy Mamas. Last year I barely had any friends and this year I learned that I had even fewer than I realized. I prayed for an extended family. I received, in abundance. This year I was blessed with a
multitude
of sisters... women who will be my friends for a long time I pray.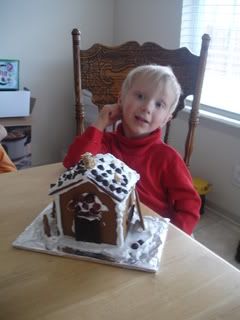 This time of year is a true struggle for me. Christmas Eve marks two years since the dreaded phone call announcing my mother's brain tumors and... of course... imminent death. Furthermore, I no longer have a relationship with my father and I'm not close to any extended family. This is difficult for me on so many levels. I visualize peace and comfort during these hard days. I plan to create a wonderful environment full of love and happiness for me and my family.
In addition, I plan to say no thank you to the fattening foods of the holiday and yes to weight loss. With four pounds lost in a week, I believe I am encouraged enough to keep up the good work and put down the nasty processed cakes and dirty dairy products.
I am working on a one woman show. I will read it for a group of writers on January 29th. I'm very excited about this opportunity.
My marriage has been on the rocks as of late but we are well on our way to having a stronger relationship than ever. This past week we graduated from
Dynamic Marriage
. Tomorrow is our fifth anniversary. We have several goals for the next five years... one of them includes not having any more children and spending more recreational time together. I suppose that as the children grow older, we will grow closer. It will only get easier. Until then, we commit to work regularly on our marriage and making it the best it can be.